When the World was Brightest:
Celebrations of Twelfth Night Throughout the Lands
Saturday, January 7, 2017 at 7:30 p.m.
St. Mark's on Capitol Hill, 301 A Street SE, Washington, DC
Sunday, January 8, 2017 at 6:00 p.m.
Christ Church, 118 N. Washington St., Old Town Alexandria, VA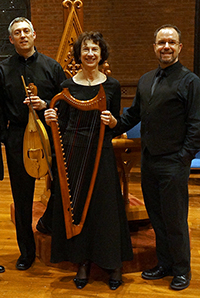 Share in this holiday tradition and celebrate the season of Winter Solstice with Armonia Nova in their 15th annual performance of Twelfth Night. Every year is a thoughtfully created program, offering new delights while recalling favorites from past years. Travel through Europe this season with the performers as they visit some of the most beautiful moments in this long tradition.
Constance Whiteside: director, medieval & triple strung baroque harps
Craig Resta: vielle and baroque violin
Jay White: countertenor