"Twelfth Night:
A Season of Renewal and Rejoicing," January 5 & 6, 2019
"España Ascendant: Spanish Music from the 13th through the 17th Centuries," February 24, 2018
"O Luminous Night: A Celebration of the Epiphany & the Winter Solstice," January 6 & 7, 2018
"When the World was Brightest: Celebrations of Twelfth Night Throughout the Lands," January 7 & 8, 2017
"Lumina et Spiritu," March 20, 2015
"Une Vipere et l'Unicorne: Medieval Mysteries, Marvels & Miracles," October 11, 2014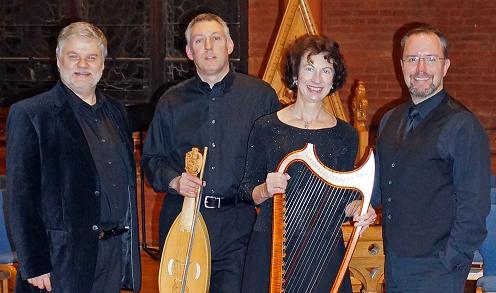 "A Medieval Valentine," February 9, 2014
"Twelfth Night: A Celebration of Epiphany, January 4 & 5, 2014
"Divertissement: A Concert of Medieval Music," July 23, 2013
Washington Early Music Festival Workshops, June 24, 2012
La Bella Musica: Playing & Improvising on Medieval Melodies
The Second Circle – An Ensemble Technique Workshop
Washington Early Music Festival Concert: "Plena di Passione," June 23, 2012
"Medieval Women: Saints & Sinners," Saturday March 24, 2012
Twelfth Night: "Luminous Gems," January 6, 2012
"Une Vipere et L'unicorne: Medieval Mysteries, Marvels & Miracles," October 22, 2011
St. Paul's Church Performance Series, Chattanooga, Tennessee, September 2011
La Voix Médiévale: A Vocal Workshop in Medieval French Song
Transmettre le Message: Performing and Improvising Medieval Music
When Love Was Art: Passionate Music from the Age of Chivalry
Gala Benefit Concert for the Washington Early Music Festival, July 9, 2011
"L'art de l'amour: The transforming power of love in the medieval world," Tuesday, June 14, 2011
Armonia Nova inaugural concert at the Boston Early Music Festival's Fringe Concert series was performed for a full and enthusiastic audience at First Church Boston on June 14, 2011.
"Armonia Nova's unabashedly romantic L'art de l'amour: the transforming power of love in the medieval world"
The Boston Musical INtelligencer, June 1, 2011
L'art de l'amour was a recommended concert in Boston's Laymusic.org.
"Myths & Miracles: Magical Thinking and the Medieval Mind," March 25, 2011
"Twelfth Night: 'Noel, Nouvelet!' A Celebration of Epiphany and the Winter Solstice," January 8 & 9, 2011
Local period-performance group Armonia Nova dropped in just after evening services at Christ Church in Alexandria on Sunday to perform a short concert of medieval and Renaissance French music devoted to merry Christmases and happy New Years. The concert was part of an Armonia Nova tradition of extending the holiday season at the other end— both liturgically correct, given that Sunday was the first of the Epiphany season, and a welcome reminder that one of the blessings of the holiday season is some terrific tunes that have survived the centuries well.

Readers of DMV Classical may be familiar with Armonia Nova from this awesome concert in the DC Early Music Festival last June, and Sunday's concert evidenced many of the same virtues heard last summer: repertoire to tickle the modern ear, an easy fluency in ancient scales and styles, spontaneous phrasing that makes old music feel modern, and just some beautiful singing and playing… Bunday sang a clutch of solo numbers in which she demonstrated a keen feel for the rhythm of phrases both textual and musical; it was easy to follow the printed English translations when she was singing her French. Whiteside, in her solos, made melodic lines hang shimmering in the air and spoke volumes with single quavering notes; "Lai D'Aelis," a fourteenth-century stanzaic piece, seemed to grow like a flower with each elaboration of the main melody. Yet Mondel had the most memorable performance of the evening, a pious song by thirteenth-century composer Blance de Castille called "Amours, u trop tart me sui pris," where her hushed concentration and clear tones (supported eloquently by Whiteside) made the composer's devotion palpable.
(Andrew Lindemann Malone, DMV Classical)
"When Love Was Art," June 25, 2010
Craig Resta, vielle; Constance Whiteside, director and medieval harp; Jacqueline Horner-Kwiatek, mezzo soprano; Allison Mondel, soprano; Marjorie Bunday, alto; Jay White, countertenor



"chill beauty … an operatic level of engagement"
Joe Banno, Washington Post, June 28, 2010
"a truly wonderful program … the blending of the voices and instruments was electric."
Bob Anthony, allarts4U, June 27, 2010
"Armonia Nova's performance of French love songs from the thirteenth through fifteenth centuries…bridged the gap between medieval times and ours, sounding strikingly immediate and real."

"Armonia Nova confirmed once again the Washington Early Music Festival reliably provides committed, engaging performances of under-heard music."
Twelfth Night: From the Lands of Ice and Snow, January 2 & 3, 2010
The Armonia Nova's yearly "Twelfth Night" program is probably the most relaxing and meaningful musical program during the Christmastide as, with quiet music and old instruments, the group tells the no-frills story of the Christmas story of the birth of the Babe and its contrastive religious implications. This year at the historic Christ Church in Old Town Alexandria, two musicians and two singers inspired with 13th and 14th Century songs in olde English, French and German and especially impressive was the quiet lullaby of "Lullay, lullay: Als I lay on Yoolis night." It was the selection that the clear alto of Majorie Bunday and "smoky" mezzo of Allison Mondel blended to perfection to tell the story of the angel Gabriel's exclamation of the birth of the Christ child. The earlier century's musical instruments played by Constance Whiteside and Douglas Walters gave gentle string support that chilled. Forget the venality of stressed shopping and unrewarding gift giving next Christmas season and just wait for the Armonia Nova's "Twelfth Night" to fulfill the appropriate joyous and all encompassing celebration of the nativity. This Armonia Nova group also has other programs scheduled during the year that features classic and historical music from the music pages of previous centuries. Check them out!
(Bob Anthony, allartsreview4u.com)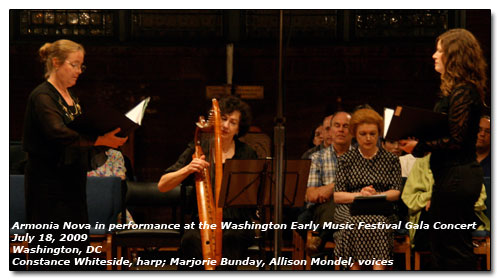 In arrangements of Hildegard von Bingen's chants with harpist Constance Whiteside, Marjorie Bunday and Allison Mondel blended their voices in a spellbinding performance of textural simplicity and rhythmic freedom.
(Washington Post 2009)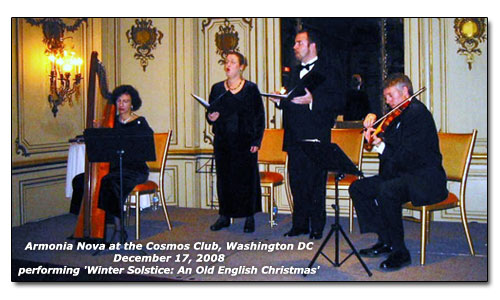 Armonia Nova's "Twelfth Night" concert at the Old Christ Church in Alexandria was one of the two finest and most inspiring concerts of the Christmas season … along with the Christmas Revels at Lisner. Both productions were simpler than most competing events and, ultimately, far more beautiful as they cut to the essence of distinctive holiday traditions. Armonia Nova chose to explore very early English carols and other period music from the British Isles. With only a harpist, a violinist and an alto and a countertenor, the classical instruments gave divine effect and the distinctive voices of the singers were purity plus. The lyrics were often difficult although a printed pass-out interpreted in current English. Artistic director, Constance Whiteside, and violinist, Craig Resta, fully described their classic instruments between their excellent precisioned playing. Countertenor Jay White fully described the linguistic changes from Celtic, Norman and Old English to the present day. Jay White was outstanding as a soloist or when dueting with finely ranged alto Marjorie Bunday. Unlike some countertenors, White did not seem to be forcing his voice into a falsetto range and sang with confident volume. It was a very appreciative audience who, no doubt, trust that this group will provide similar entertainment during the next holiday season.
(Stephen Neal Dennis, allartsreview4u.com)
---
A video from our Twelfth Night 2008 concert program
---
Armonia Nova at the 2005 Washington Early Music Festival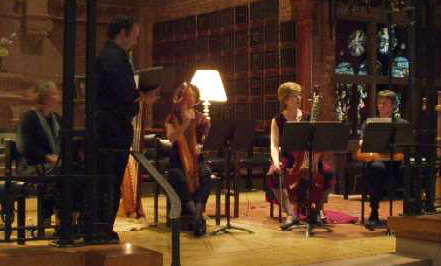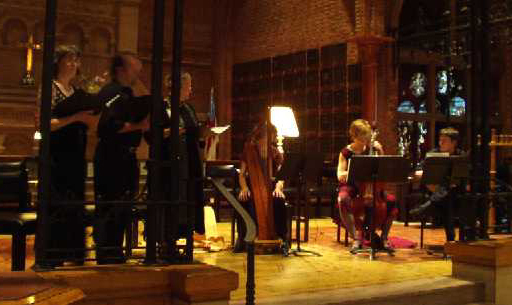 Photos by Atsuko Ikeda